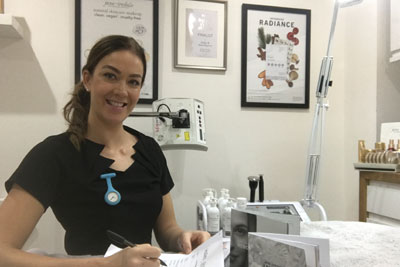 I have been in the Beauty Industry for over 14 years and, having worked in Leamington for 13 of those, I have built up a large client base and good reputation within the industry.
In June 2019 I rebranded my business to be Skincare focused, and concentrate on building my passion for all things skin. This element of my business has boomed since I first started in April 2016 and my skin repertoire has expanded since completing my Level 4 Diploma in Advanced Skin Studies.
Now including Micro-Needling and Chemical Peeling, in order to offer my skincare clients a rounded approach to treating their concerns, alongside the very successful and results driven Environ professional facials and topical homecare, Advanced Nutrition Programme internal skincare and Jane Iredale Mineral Makeup.
I work with FDA cleared SkinPen for its superior client safety, as it insures the medical grade device is free of cross-contamination of skin and blood-borne pathogens. I also use Mesoestetic sterile C.Prof Serums, to use after needling, to further maximise the results of client's needs and concerns, as well as Mesoestetic's MesoPeels, treating the more superficial skin in a safe and balanced approach, maintaining the skin's barrier function and encouraging overall skin health and functionality with all of these hand-picked brands.
I also offer Rejuvalight LED Light Therapy to complement and enhance all of the above as a stand-alone or combined treatment.
Next in 2020, for Hollie's Skincare, will see additions to my results portfolio and an extension to my professional treatment offerings, within the current brands such as Cosmelan Depigmentation treatment by Mesoestetic, and introducing Hair Restoration for thinning hair using LED Light Therapy and SkinPen Needling combined therapies.
Stay up-to-date by signing up to my email newsletters and following my social media pages.