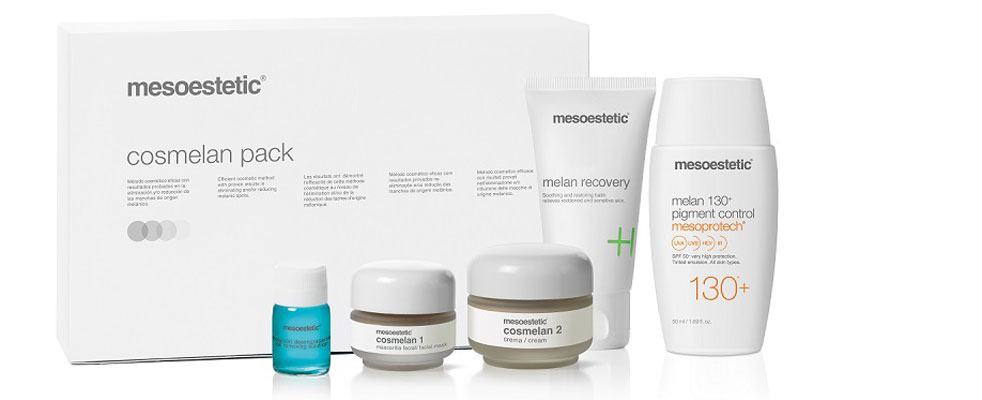 cosmelan®
What is cosmelan® and who is it for?
The cosmelan® treatment is the world's leading professional pigmentation removal method. The treatment is suitable for all forms of hyperpigmentation from melasma, post inflammatory hyperpigmentation PIH, solar lentigo (sun spots)to ephelides (freckles) and can be used on all Fitzpatrick skin types.
What causes hyperpigmentation?
Skin hyperpigmentation is caused by abnormal production of melanin - the pigment responsible for skin colour - and a consequence of uncontrolled, localised overproduction of melanin inside the melanocyte which causes irregular skin colouration and dark spots. Numerous external and internal factors can cause hyperpigmentation:
Genetic Tendency · Sun Exposure · Inflammation · Hormonal Changes · Ageing · Exposure to Chemicals · Photosensitising Medication
How does cosmelan® work?
With an intensive corrective effect that regulates overproduction of melanin in the melanocytes that inhibits and controls the appearance of new dark spots. Its dual corrective and controlling action achieves both short and long-term results by keeping hyperpigmentation under control. The cosmelan® contains an exclusive combination of active substances with proven efficacy which act on all phases of the hyperpigmentation process - eliminating existing hyperpigmentation, preventing its reappearance and stopping the appearance of new dark spots.
What does the cosmelan® method involve?
The treat consists of 1 in-clinic treatment followed by at-home maintenance, which should be continued for at least 9 months – 1 year. The cosmelan 1 is the professional treatment mask which is applied by Hollie's Skincare in-clinic and this should be left on for a period of between 8 – 12 hours depending on the clients Fitzpatrick skin type and form of hyperpigmentation. The cosmelan 2 should then be used by the client at home under the guidance of Hollie's Skincare. This process is started 48 hours after the in-clinic mask and is recommended to be used three times daily in the first month, twice daily in the 2nd and 3rd month and once in the evening in the 4th month onwards.
This is a 12 month programme, consisting of 4 Phases to target, treat and regulate pigmentation concerns.
cosmelan results before and after